Give the Gift of a Safe and Healthy Home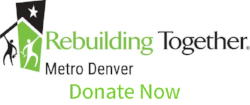 Unhealthy living conditions at home account for many of the leading causes of preventable fatality, illness and disability in the United States. When you support Rebuilding Together Metro Denver, you provide safe and healthy housing for our community's vulnerable homeowners. We rely upon the dedication of our supporters to provide a caring community because everyone deserves a safe and healthy home.
Online Giving
Donating online is simple and secure. You may make a one time gift or set up recurring contributions. By giving monthly, you help ensure that our homeowners live in safe and healthy homes no matter the season!
Donations By Mail
To mail your contribution, please send to:
Rebuilding Together Metro Denver
2839 W 44th Ave.
Denver, CO 80211   back to top
Workplace Giving
Workplace giving campaigns provide an opportunity for employees and company leadership to work together on an annual drive to inspire charitable community investment.  Giving campaigns are fun, team-building opportunities that unite the company's employees around a common goal.  Inviting employees to give through paycheck contributions is a benefit that increases a company's positive impact on the community while respecting individual employees' desire to express themselves by choosing their favorite charitable recipients. Contact Community Shares at giving@cshares.org or 303.861.7507.
Host an Event for Rebuilding Together Metro Denver
From house parties to bake sales, dinner dances to golf tournaments, and everything in between, many of our fundraising efforts are by people in the local community who take it on themselves to plan, organize, and execute events. There is no limit to the creative ways to support Rebuilding Together Metro Denver. If you would like to host an event for Rebuilding Together Metro Denver, please contact Jodie Liddy. 
Donate Your Day
Are you celebrating an upcoming birthday, anniversary, or other special occasion? You can donate your day to Rebuilding Together Metro Denver and make a customized, secure webpage to share with friends and family. For more information, please contact Jodie Liddy.
Donate Your Car
Wondering what to do with your used car or truck? Donating your old vehicle to Rebuilding Together Metro Denver is convenient, easy and may qualify you for a tax deduction. And best of all, your donation of a used car or truck will make a big difference in supporting our mission. All you need to do is to complete our simple online donation form or call 1-866-628-2277 and Vehicles For Charity will take care of the rest!  
Matching Gifts
Double your gift to RTMD! You may qualify to have your contribution matched if you are an employee, retiree, or board member of a company that has a matching gift program. Simply request paperwork from your employer or contact your human resources department to find out about opportunities available to you and your colleagues. 
Planned Giving
Please remember Rebuilding Together Metro Denver in your estate, will, or life insurance policy. With your thoughtful planning, low-income homeowners now and in the future can rely on support from RTMD. For more information about planned giving, please ask your estate planner or attorney to contact us. 
A safe and healthy home is not a privilege for a select few. Ready to help low-income homeowners stay in their homes? Give Today.